Cairo Excursion By Plane One Day Tour From Sharm El Sheikh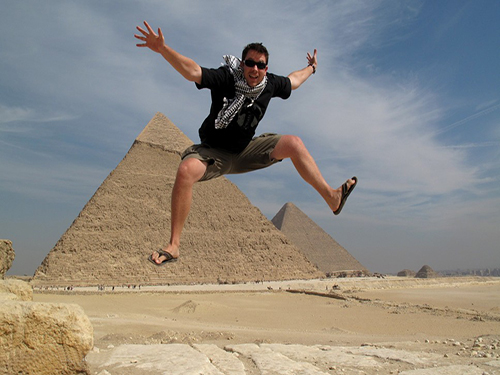 Cairo By Air Overday Trip with Sharmers
Get introduced to the city of the pharaohs, Dating back almost 10 centuries ago, the city stands out as one of the greatest archaeological treasury of both the the ancient and the modern time, with  the ongoing discoveries of mummies, tombs, monuments, treasures and temples the city remain as a reminder of glory, wisdom and power of  it's Pharaohs, if you never been to Egypt and you don't want to miss out on the Pharaonic civilization, the Cairo excursion is the perfect candidate.
Excursion itinerary 
Pick up once your trip is confirmed you will receive the confirmation email with the excursion details and pick time and spot ( usually around 5:00 AM depends on your hotel's location ) you will be picked up from your hotel to Sharm El Sheikh airport, our representative will guide you in the departure hall on what to do and where to go.
Fly to Cairo as soon as you get the boarding pass there will be 30 to 40 minute time to spend before the flight takes off,  if you want to have your break fast (breakfast boxes are free in most of the hotels in Sharm ) or drink some coffee in the air port's cafeteria there will be enough time, the flight duration is exactly 40 to 50 minutes.
Arrive To Cairo in Cairo airport with our English speaking guide ( allow some time to wait for the rest of your group on the same flight ) all of our guides are pre-informed with the travelers details names hotels, all you have to do is to spot the Sharmers sign, and we will take it from there .
The National Egyptian Museum the first stop is the museum a very big touristic spot you will spend almost 2 hours so our guide will cover all the highlights and eventually there will be 30 minute free time for the group to wander around and take some pictures around the place ( not inside as cameras are not allowed, our guide will collect the cameras and keep them in a safe inside the museum and once you're out you can get it back to take some photos )
Nile Felucca Ride you will take the traditional sail boats and enjoy a relaxing boat ride and get the chance of getting to know the city and catching the summer breeze from it's great Nile.
Lunch the bus will then take the group to either TGI Fridays or a local 4 stars restaurant to have a rest for 1 hour and have lunch and get ready for the next Stop.
The Pyramids & King Kafra Valley you get to spend almost 2 hours 30 minutes at the pyramids and take some great photos, there are 3 pyramids you will have the chance to get inside one of them for free, our guides are very knowledgeable so you are in for a ride through the ancient history, our group is always a small group ( 12 travelers ) so it gives each one of them enough time to ask the guide anything they have in mind without having to worry about wasting time, then you will be taken to the king Kafra valley and see the sphinx and ask all of your questions.
Shopping at the end of the day you will spend almost 1 hour to shop for Egyptian antiques ( if you're not into shopping you can wait in your air conditioned bus ) .
Fly Back To Sharm our guide will escort the group to the airport and once you arrive to sharm el sheikh you'll be picked up by our representative back to your hotel.
Excursion Includes
Air conditioned transportation every where in Cairo and Sharm El Sheikh.
2 Ways flight tickets SSH-CAI & CAI-SSH.
All entrance fees to all the touristic places mentioned in the itinerary.
Professional English speaking Egyptologist.
Lunch at TGI-Fridays ( including Ice-Cream desserts ).
Felucca ( small motor boat ) Nile ride.
Free bottled water in Cairo the whole day.
 Excursion Excludes
Visas ( if you haven't already got your visa we can help you on the day of your excursion free of charge but you will have to pay for it almost 25 $ ).
Drinks in the restaurant.
Any extras not mentioned in the itinerary.
Things You Should Take
Passports.
Cameras.
Sun glasses.
Sun blockers ( if you have any sun conditions in the summer ).
Hats.
Comfy shoes ( trainers would be perfect for this excursion ).
White outfits Recommended.
Breakfast box (free of charge in most of the hotels in Sharm El Sheikh ).
Extra cash ( in case of buying some souvenirs or gifts for your friends or family, Egyptian pounds are more recommended).
 Wheelchair (if over-aged or if having walking difficulties) .
Tour Price
Adult /

138 GBP

including

Nile Felluca Ride

Child / 

128 GBP

 including

Nile Felluca Ride

Infants / Under 2 years old are Free of charge.
Timing & Duration
Pickup : Around 5:00 Am ( Depending on your hotel location in Sharm ).
Drop Off : Around 9:00 Pm.
Duration : 16 Hours.
Tour Availability 
Sat-Sun-Tue-Wed-Fri ( Departure from Sharm around 6:00 Am – Arrival back to Sharm around 11:30 Pm )
Mon-Thur ( Departure from Sharm around 6:00 Am – Arrival back to Sharm around 9:00 Pm ) 

Recommended

.